Bridge Creek Estate: Wetlands Preservation Project
A conversation with Bridge Creek Estate ranch manager Don Savjord
Bridge Creek Estate ranch consists of about 2,500 acres located adjacent to the town of 100 Mile House in British Columbia. It is part of the Bridge Creek watershed and the ranch contains a number of small lakes, streams and springs. There is open grassland, hayfields, sedge meadows and forests. One of the lakes has a red-listed fish population and there is a Great Blue Heron rookery adjacent to our woodlot.
We have been operating a cattle and horse ranch owned by the same family for almost one hundred years. Historically the ranch started in the 1800s as a stopover and food supplier for the Cariboo gold rush. Our first water license dates back to a dam and flood ditch constructed in 1895. The ranch has generally been concerned about land stewardship for many years but still followed a traditional approach to livestock management. Typical with most ranches in the Cariboo, our old barn, winter feedlots and corrals were located next to the creek, in the winter we cut holes in the ice to water the cattle, and the livestock had uncontrolled access to sensitive riparian zones. Spring runoff next to our winter feed grounds turned the creek rather brown. We still caught the occasional trout in the irrigation flood ditches when I first came to work on the ranch in the mid 1970s.
When I came back to work for the Ranch in 1994 after a family reorganization, the environmental issues became a major element in the day-to-day operation of the ranch. Not only was the degradation of the water quality a potential liability with the Ministry of Environment and Fisheries but our cattle were not gaining as well as expected. As one cow would defacate in the creek, downstream another was drinking. The stream banks had been trampled and the vegetation so destroyed, that creek flow was shallow, muddy and extremely slowed. In some areas, because the creek channel was poorly defined, the fish had a hard time finding the upstream gravel spawning sites. Over many years the artesian springs and small seasonal streams in the valley were turned into mud bogs by the livestock. It was time for a change.
Our first goal was to improve the water quality in the creek and lake. This would have the two-fold benefit of reducing the risk of prosecution due to agricultural contamination and also supply clean water for livestock, thus resulting in better weight gain. By working with Fisheries consultants we could make stream changes that would help spawning fish and thereby access government funding.
Adequate funding for capital projects is always a challenge on a ranch. The hard part for environmental projects is that there is little immediate financial return. We got around this by accessing other players, such as Ducks Unlimited (DU), FRBC (Forestry Renewal B.C.), local businesses, high school /environmental groups and various government agencies, to do joint ventures together. We co-operatively designed our projects so that there was a benefit to all the parties involved. They supplied most of the cash and the technical information, we supplied some sweat labour and tractor time as well as ways to integrate our livestock into the design.
We started by constructing fences along the creek to create buffer zones. This protected the streamside vegetation and kept livestock out of the creek. DU then agreed to come along and restructure the stream banks because they knew we were committed to maintaining the area. They improved the water quality and riparian zone for birds and we had better draw down for the flooded hay meadows after the wild bird-nesting season. The local high school students planted willow shoots to provide future shade to help lower the water temperature for fish. We designed the buffer zones large enough to use as corridors for moving cattle from one pasture to another. This cut down on the labour and stress of rotating our livestock. We also use the buffer zone as a limited summer pasture for a few horses when the timing is suitable.
Bridge Creek Restoration Project
In the sub-irrigated meadows we made larger fenced areas well back from the creek, and use this riparian zone as a limited grazing pasture. We closely monitor the impact on the vegetation and rotate the cattle out well before there is any serious impact. This allows the vegetation to recover along the creek before the growing season has ended. We recently put several small bridges, covered in filter cloth and gravel, across the creek so the cattle would not create worse bog areas. Because cattle are lazy they prefer the bridges to the effort of getting stuck in the soft mud of the creek when they cross to greener pastures.
We are now in the process of creating additional water sources for cattle in the various rotation pastures so that we can keep them totally out of the riparian zone. We created small shallow wells at some of the springs and then run this water into troughs for drinking. The overflow then runs back into the fenced-off riparian zone. This has worked well for some areas but in the dry summer there is not enough water in all of our pastures so livestock are given access to the creek. We are now looking for alternative water sources and funding to improve this situation.
The other benefit of having outside funding for fencing off sensitive riparian zones was that we could incorporate this into our own fencing program to create multiple pastures for better rotation of cattle. This has allowed us to run more cattle without damaging the range. In a wet year when there is surplus grass we set aside one of the pastures for hay production. In our Woodlot, where we also graze cattle, we have started horse logging and are very interested in the FSC eco-certification process. As the surrounding forest lands have a large impact on water-quality in the valley, we are very interested in understanding the environmental and economic impacts of incorporating this type of approach into the ranch operation.
The other big problem was to move the old corrals, feed areas and buildings away from the creek as they were a primary source of pollution. Because we are next to an urban area, the spring runoff was a highly visible source of irritation for our many neighbours. It was only a matter of time before Conservation Officers or Ministry of Environment would be targeting us. Rather then wait until we were forced to make significant changes we chose to begin a program to relocate our buildings to a less sensitive area well away from the creek. This has been a major capital expense for us but we now have a barn and partial corrals that are out from the valley bottom and on to high ground. The added benefit is the quick dry up in the spring or after a rain, the breeze keeps the flies away and the view is great.
Bridge Creek Ranch has entered its second hundred year span with a new and practical outlook towards environmental concerns. We have a growing network of like-minded people who help us make further changes and hopefully we can be helpful and educational to others. We have proved that one does not have to take an adversarial approach if all parties genuinely work together to achieve realistic and timely goals. This ranch is only one small part of a large watershed but we want the water that flows through our valley to be just as good leaving as when it first appeared on our land.
Waterbird Species on Bridge Creek Ranch
American Coot
Bufflehead
Sandhill Crane Provincial Yellow-Listed
Gadwall
Canada Goose
Barrow's Goldeneye
Common Goldeneye
Red-necked Grebe
Eared Grebe
Pied-billed Grebe
Great Blue Heron Provincial Blue-Listed
Greater Yellowlegs
Kildeer
Common Loon
Mallard
Northern Harrier
Virginia Rail
Redhead
Ring-necked Duck
Ruddy Duck
Spotted Sandpiper Provincial Red-Listed
Lesser Scaup
Surf Scoter
Sora
Blue-Winged Teal
Cinnamon Teal
Green-Winged Teal
American Widgeon
Wilson's Phalarope
Wilson's Snipe
Northern Shoveler
Green-Winged Teal
Other Species found on Bridge Creek Ranch
Lake Whitefish (Coregonus clupeaformis in Exeter Lake) Regionally rare
North American Badger, T.t. jeffersonii subspecies Provincial Red-Listed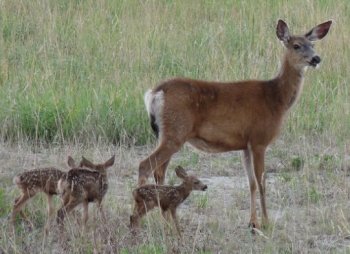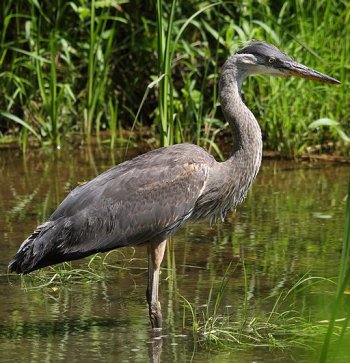 Ardea Herodius, Provincial Blue-listed Species frequenting BCE ranch wetlands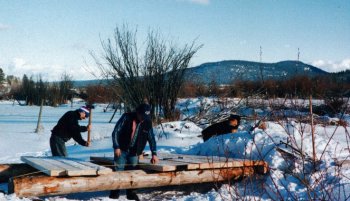 Several small bridges, covered in filter cloth and gravel were constructed across the fish stream to minimize cattle impact when they cross to greener pastures. Larger fenced areas were built well back from the creek to use this riparian zone as a limited grazing pasture.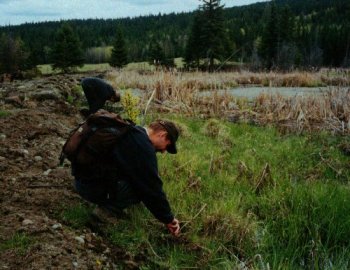 Planting willow trees to reinforce Glover Marsh dam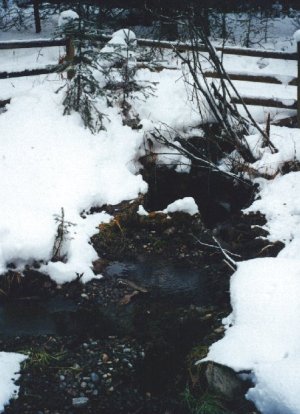 Cecil Springs (above), perimeter fenced to protect it, and water diverted to alternate livestock watering site (below)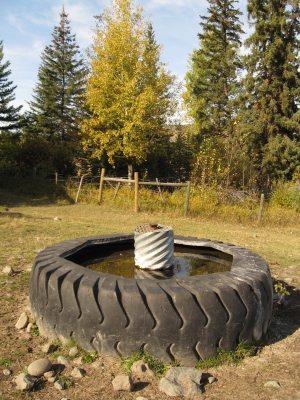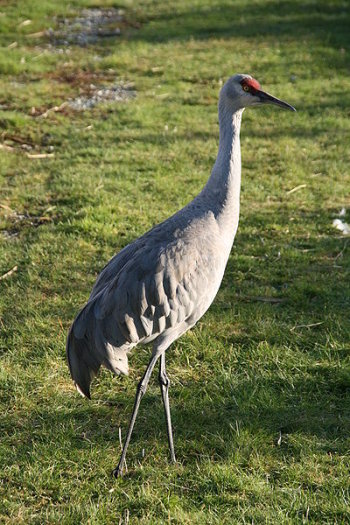 Provincial Yellow-Listed Sandhill Crane