Bridge Creek Estate: Property
The core of Bridge Creek ranch is located in the valley surrounding Exeter Lake, stretching west of the town of 100 Mile House. With its excellent location, the ranch has easy access to all the services and amenities of town such as schools, hospital, movie theater, library, modern skating arena, restaurants and shops. The South Cariboo region is known as an outdoor paradise with fishing lakes, groomed cross-country ski trails, snowmobile routes, and golf courses.
Access
100 Mile House is on Highway 97, the primary north-south route though BC, and Vancouver is an easy 5 hour drive away along main roads. For access by air, the municipal paved airstrip is directly next to the ranch and is suitable for small private aircraft. The 108 Mile airport is 10 minutes away and is large enough for small jets. There are scheduled commercial flights into Williams Lake, one hour to the north, and Kamloops, two hours to the south.
Ranchland
Bridge Creek Estate currently operates on over 2,400+ acres of deeded land and 1,300 acres of grazing licenses. There is also a 1,400 acre woodlot license that partially overlaps with the grazing license area for a total operating area of approximately 5,000 acres (2,000 ha), making Bridge Creek one of the largest remaining ranches in the South Cariboo.
Cattle and horses graze in the native grasslands, forests, and sedge meadows of the ranch. We also cut Sedge/grass hay on the meadows and alfalfa/grass hay on our irrigated upland fields. The ranch is blessed with beautiful natural surroundings which include Exeter Lake, Little Bridge Creek and over 500 acres of wetlands. In conjunction with Ducks Unlimited and various Government agencies, we have aimed to take a leadership role in environmental stewardship.
Buildings
Having moved the ranch-facilities to a new location in the late 1990s, we had the opportunity to build truly modern buildings and corrals over the last 12 years. Our main building is log-built with horse stalls on the main floor. There is a professional office upstairs complete with high-speed internet wiring. A beautiful second-floor two-bedroom caretaker suite overlooks the valley and provides an on-site presence for the ranch buildings.
A heated two-bay machine-shop and several storage buildings all keep equipment protected and well-maintained. The two main hay-sheds are ground-level and easily accessed by tractor.
The property has several building sites with a view overlooking Exeter Lake and Heron Ridge, perfect for a custom executive home offering both privacy and easy access to amenites.
Infrastructure
Over the last 15 years, Bridge Creek has developed an extensive system of rotation pastures so that the ranch can board more cattle yet keep the grasslands healthy. The fenced corridors and pastures make moving the animals much easier than traditional methods of handling. Please see the Livestock page for more information.
The corrals adjacent to the ranch yard provide a streamlined system for sorting and loading cattle. In addition, there are pens for training horses and hosting cutting events. There is access to municipal water, so all the pens and pastures around the ranch yard have heated water-feeders. Each of the horse pastures is provided with a shelter to keep animals dry and healthy.
As well as many new fences, we have taken a pro-active approach to maintenance and have worked to replace and upgrade important infrastructure around the property.
Equipment
In 2007 Bridge Creek modernized its haying operation with the addition of a brand new 75hp John Deere tractor, center-swing swather, and computerized net-wrap round-baler. For quick travel around the property, there is a two seat ATV, used for fencing and maintenance duties. A full-sized horse trailer, flat deck-trailer, post-pounder, log-splitter and numerous other pieces of ranch equipment round out the operation.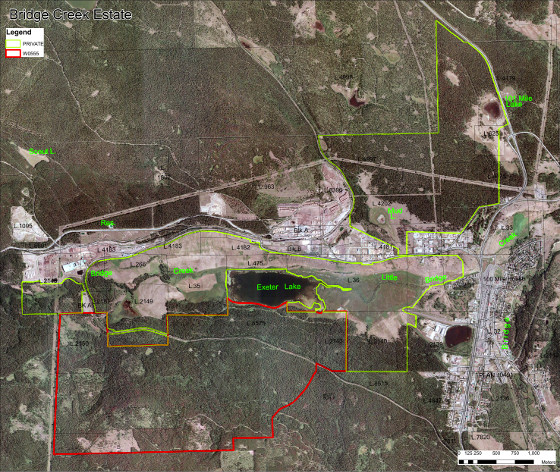 Click on map to view large size (1400x1180px)
Click on the photos to see our full-size slideshow on Flickr.